---
Katy House Painters
We've built our business by helping customers like you improve their properties. We offer free estimates including computerized insurance estimates based on building costs for the Katy area.
If you have questions about painting, remodeling, or renovating, our knowledgeable staff will be answer them. If you would like to talk to some of our past customers, we'd be happy to arrange that for you.
We know that decisions about home improvement projects take time and consideration. We'll assist you, but we won't rush you.
Let's talk about how we can help you make your remodeling dreams come true.
Call us, email us, or fill in and submit the form below.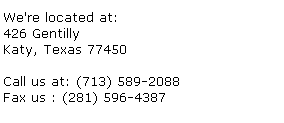 We take the hassle out of home repairs and renovations.
---